Australia is one of the most popular travel destinations in the world. It's known as a major backpacking, camping, road trip, and diving destination, but no matter your travel style, there is something to draw you here.
Backpacking Australia is like the "must do" for backpackers around the world. It's a central highlight on the round the world trail.
I started coming to Australia in 2008. I've visited over five times and have crisscrossed the country three times. And every single trip I discover something new about this country to love.
But this isn't just a country for backpackers.
Australia is filled with incredible natural beauty: Uluru and the Outback, rainforests and pristine white sand beaches, and of course, the Great Barrier Reef. Sydney's Harbor Bridge and Opera House are iconic man-made wonders, and Melbourne's café culture will make you feel like you're relaxing in Europe.
However, the country is massive with limited transportation options outside the coasts and it is, not surprisingly, very expensive to visit.
Use this extensive Australia travel guide (based on years of visits) to help plan your next trip so you can see more, spend less, and have the best trip possible.
Click Here for City Guides
Top 5 Things to See and Do in Australia
1. Sydney
Australia's largest city has a range of activities to keep you busy. Climb the Sydney Harbor bridge, surf at Bondi Beach, party in King's Cross, sail across the harbor, visit the Opera House, and take in world-class innovation in Darling Harbor.
2. Visit Uluru
Uluru is one of the most popular in the country. Make sure you are there for both sunset and sunrise because both are equally as spectacular. It's a pretty breathtaking sight. Make sure to visit the Aboriginal center to learn about Aboriginal history and culture.
3. Dive the Great Barrier Reef
Don't miss diving or snorkeling the Great Barrier Reef before it disappears for good thanks to climate change. Try to book a company that has a permit to visit sites further from the shore to avoid the onslaught of other boats that inundate dive sites closer to shore. Trips start around 180 AUD ($130 USD).
4. Melbourne
Melbourne
is much more relaxed than Sydney (and, personally, I like it more). This is the place to relax by the river, walk through the city gardens, eat amazing food, enjoy the art, and party in St. Kilda.
5. Sail the Whitsundays
A 3-day/2-night
sailing trip
is a popular way to see some of the most beautiful sand islands in the world. Whitehaven Beach is mesmerizing and the Whitsunsays as a whole are postcard-perfect. A few of the islands have resorts if you want splash out and there are also campsites if you're on a budget.
Other Things to See and Do in Australia
1. Explore Fraser Island
The world's largest sand island is a popular spot for camping, swim, hike, and avoid dingoes. You can hire your own 4WD car or take an overnight tour through the island that's famous for its freshwater lake (and dingoes). The island is beautiful filled with lakes, hiking paths, and sweeping vistas. Sadly, you can't go in the water nearby as it's rough and full of sharks.
2. Cairns
Cairns is Australia's gateway to northern Queensland. From here you can visit the Great Barrier Reef, the Daintree rainforest, the Atherton Tablelands, Cape Tribulation, and much more. Cairns is a pretty typical tropical city and life here focuses on taking the time to smell the roses. With so much to see, the city deserves a very long stay. Plan to visit for a week which will give you enough time to explore the area, plus spend some time lounging by the pool.
3. Brisbane's South Bank
Brisbane is a "business city", so unlike Sydney or Melbourne, there isn't a lot of "culture" here. South Bank has some nice restaurants, and there are some decent pubs, but overall, the city isn't one of the most exciting places to visit in Australia. However, it's worth a stop to hang out on South Bank (which I loved) and meet travelers heading north.
4. Hike the Daintree
The world's oldest rainforest (yes, older than the Amazon) offers hikes that range from easy to challenging, dense jungles, beautiful mountains, waterfalls, and lots of wildlife. Spend a few days hiking around and getting out of touristy Cairns. If you really want to get off the beaten path, head up to Cape Tribulation and enjoy some real peace and quiet (just watch out for jellyfish when you go swimming). There a lot of tour companies in the area but I like Uncle Brian's tours the best (though he goes more into Atherton Tablelands and not up super far north).
5.Perth
Perth is Australia's west coast capital and is often overlooked by most travelers. It's expensive to get out there from the east coast so most travelers avoid it, but I love it. In fact, it's probably my favorite city in all of Australia. Perth feels more like a large town than a city and is the best place to have a "Sunday Session" (an Aussie tradition of drinking on Sunday afternoons). From the beaches, food, and beer (be sure to take a day trip to Freemantle), Perth is just awesome.
6. Explore the Outback
No trip to Australia is complete without a trip to the outback to see crocodiles, valleys, lakes, and the red desert. Find your own Crocodile Dundee as you explore the Red Center and Western Australia. Must visit places I love: Karijini National Park, the Kimberlys, Kakadu, and Litchfield National Park.
7. Surf on the Gold Coast
Australia is famous for its surfing, and one of the best places to learn is on the Gold Coast near Brisbane. You'll find world-class waves, a wide beach, and lots of available lessons. If you don't like the Gold Coast, there is always Noosa, Byron Bay, Bondi Beach, Perth, and, well, you get the idea. There's a lot of surfing in Australia! Surf lessons cost around 65 AUD ($50 USD) for a two-hour class. Rentals cost around 60 AUD ($44 USD) per day.
8. Take a wine tour
Whether you go down to Margret River, Hunter Valley, or the Barossa Valley, you will have many chances to taste Aussie wine right from the source. Visiting the wine country should be on your list of things to do. If you rent a car, you can stay longer or you can do guided tours from major cities. I think it's best to base yourself in the area and spend about 3-5 days in each area tasting as much wine as possible. Expect to spend around 150 AUD ($112 USD) on a full-day wine tour.
9. See the Ningaloo Reef
The Great Barrier Reef gets all the hype, but the Ningaloo Reef on the west coast is a far better reef system. Because it's less developed and attracts fewer tourists, there are actually more fish and wildlife — you can even swim with whale sharks! Plus, at some points, the reef comes so close to the shore that you can swim right up to it on your own. More fish + less crowds = a better time. Full-day dive trips cost around 215 AUD ($161 USD) while snorkel trips are around 185 AUD ($138 USD).
10. Visit Western Australia
The most overlooked area in the country is the west coast where the country really shines. Here you can escape the crowds of the east coast, explore the outback, see the Ningaloo Reef, Coral Bay (one of my favorite spots in the world), Broome, Perth, and the Margaret River. It's much less developed than the east coast, greater distances between each place, and not as much of a tourist infrastructure to get you around (the bus is a nightmare) but if you take one piece of advice away from this guide, it should be to visit this part of Australia. It's the version of the country you picture in your head.
11. See Tasmania
Despite everyone knowing its name, hardly anyone ever makes it down here. (It's kind of our of the way from the main tourist trail.) Tasmania has amazing hikes, beautiful bays (Wineglass Bay being the most famous), small towns, and excellent people, just a ferry away from Melbourne. If you have the time, explore this terribly under-visted part of the country. The ferry from the mainland costs around 100 AUD ($75 USD) each way (though of course you can also fly too).
12. Hike the Blue Mountains
Right outside of Sydney, the Blue Mountains are an awesome place to explore, particularly in a 4WD vehicle. As you adventure into the rainforest of the outback, you will see kangaroos, parrots, kookaburras, and more. Some of the more popular sights/hikes here are the Jenolan Caves, the Grand Canyon, and the Ruined Castle.
13. See the Karri Trees
One of the most under-visited sights in Australia is the Karri forest in Southwestern Australia. These dense woods and towering trees grow upwards 60 of meters (197 ft) and are a beautiful testament to the diverse nature of the country. They are only a few hours south of Perth.
14. Visit Kimberley
This area is known for its wilderness, so if you love the outdoors and don't mind things getting rugged, add this to your itinerary. The mostly-unpaved Gibb River Road runs 660km through the region's heart, which has towering limestone cliffs, gorges, a desert landscape, and freshwater pools. A 12-day camping tour of the region costs around 3,700 AUD ($2,800 USD) while a 3-day tour costs around 1,150 AUD ($860 USD).
15. Explore Kakadu National Park
The enormous Kakadu National Park is a biodiverse nature reserve in Australia's Northern Territory. It encompasses wetlands and rivers. It's home to saltwater crocodiles and flatback turtles, as well as many different bird species. Aboriginal rock paintings (dating back to prehistory) can be viewed at Nourlangie, Nanguluwur and Ubirr. You can find a lot of tours from Darwin. Be sure to spend at least a night in the park! Three-day tours cost around 950 AUD ($711 USD).
For more information on specific cities in Australia, check out these guides:
Australia Travel Costs
Accommodation – Hostels start at 20 AUD ($15 USD) per night for a dorm room, though they get as high as 40 AUD ($30 USD) in the big coastal cities. Private rooms with a double bed and a shared bathroom in hostels range between 80-100 AUD ($60-75 USD) per night.
For budget hotels, you are looking to spend at least around 75-95 AUD ($55-70 USD) for a double room, private bathroom, TV, and breakfast. Larger, chain hotels cost closer to 200 AUD ($150 USD). Camping costs between 15-30 AUD ($10-20 USD) per night (cheaper if you bring your own tent, more expensive if you're parking an RV).
For Airbnb, private rooms average around 85 AUD ($65 USD) per night while entire homes/apartments cost at least 100 AUD ($75 USD) per night though they average closer to 150 AUD ($112 USD).
Food – Food isn't cheap in Australia! Most decent restaurant entrees cost at least 20 AUD ($15 USD). Originally, I thought I was doing something wrong spending so much, but as many of my Aussie friends told me, "we just get screwed here." Chicken and lamb are super popular here, with meat pies being a common meal on the go. Fish and chips can also be found everywhere, owing to the country's British roots.
For quick snacks, grab and go places cost around 8-10 AUD ($6-7 USD) for sandwiches. Fast food is around 15 AUD ($10 USD) for a combo meal. The best-value foods are the Asian and Indian restaurants where you can get a really filling meal for under 10 AUD ($7 USD).
If you cook your meals, expect to pay 100 AUD ($75 USD) per week for groceries that will include pasta, vegetables, chicken, and other basic foodstuffs.
Activities – Multi-day activities and tours are expensive, generally costing 400-540 AUD ($295-400 USD). Day trips will cost about 135-230 AUD ($100-170 USD). For example, a one-day trip to the Great Barrier Reef can cost 230 AUD ($170 USD) while a two-night sailing trip around the Whitsunday Islands can cost upwards of 540 AUD ($400 USD). A three-day trip to Uluru from Alice Springs is around 480 AUD ($355 USD). Walking tours are around 50 AUD ($35 USD) and day trips to wine regions are between 150-200 AUD ($112-150 USD).
Backpacking Australia Suggested Budgets
How much does it cost to visit Australia? On a backpacker budget, you can do it for 70-85 AUD per day. This is a suggested budget assuming you're staying in a cheap hostel or camping, cooking most of your meals (sometimes eating fast food), and using local transportation. On this budget, you will stick to mostly free activities like beaches, hiking, and free walking tours.
On a mid-range budget of about 210 AUD, you'll be able to stay in an Airbnb, have an occasional meal at a restaurant, drink more, enjoy some intercity travel, and see a few more sights.
On a "luxury" budget of 390 AUD or more, you can spring for a nice hotel, enjoy eating out often, drink as much as you'd like, rent a car, and fly between some cities. The sky is the limit after that!
Here are som suggested budgets to help you plan your trip. Prices are in AUD.
Accommodation
Food
Transportation
Attractions
Average Daily Cost
Backpacker
15-20
25
15-20
20
75-85
Mid-Range
70
50
25
65-100
210
Australia Travel Guide: Money-Saving Tips
Australia can be a very, very expensive country to visit. If you aren't careful, you'll blow through your entire budget in no time! Here are some ways to save money when you visit Australia:
Drink goon (box wine) – Goon is infamous on the Australian backpacker hostel trail. This cheap box of wine is the best way to drink, get a buzz, and save a lot of money at the same time. Drink this before you go out and save on spending money at the bar (where it is about 10 AUD ($7 USD) per drink).
Cook often – Again, eating out is not cheap. The best way to reduce your costs is to cook as many meals as possible. ALDI is the cheapest supermarket in the country, followed by Coles and then Woolworths (though sometimes you don't get a choice at which place you can shop at as some small towns only have one).
Car share – Australia is a big country that can be expensive to get around. If you are traveling with friends, it's smart to buy a used car or campervan (or rent a new one from one of the many rental companies in the country) and split the costs of gas. You can also hitch a ride with other travelers using sites like Gumtree, Jayride, or hostel message boards.
Book tours as a package – This country has a lot of exciting activities and tours that eat into any budget. Booking activities together through a hostel or tour agency can get you a discount and save you hundreds of dollars.
Work for your room – Many hostels offer travelers the opportunity to work for their accommodation. In exchange for a few hours a day of cleaning, you get a free bed to sleep in. Commitments vary but most hostels ask that you stay for at least a week. Check with the staff when you arrive to see if there are any opportunities available.
WWOOF – WWOOFing is a program that allows you to work on organic farms in exchange for free room and board. Everyone I've met who stays in the country long-term does it for at least one month. It's a great way to reduce your expenses and can a deeper look into local life.
Couchsurf – Accommodation in Australia is pricey. If you plan ahead, you can usually find really nice Couchsurfing hosts throughout the country. This way, you not only have a place to stay but you'll have a local host that can tell you the best places to go and things to see.
Wild camp – Good apps for traveling and camping are Wiki Camps and CamperMate (free).
Fill up your water bottle – The tap water is clean and safe to drink in Australia. Cutting the 2-3 AUD for each bottle of water will reduce your daily spending and lower your carbon footprint too!
Where To Stay in Australia
I've been a backpacker here for ages and have accumulated a long list of places to stay. Here are some of my favorite places to stay in Australia:
How to Get Around Australia
City Transit – All of Australia's cities have reliable, affordable public bus systems. In the bigger, cities such as Sydney, Melbourne, Brisbane, Adelaide, and Perth, you'll even find subways and tram systems. This is the cheapest way to travel the cities. Fares cost between 3-4 AUD ($2-3 USD). Taxis are expensive — skip them.
Air Travel – With Australia being over seven million square kilometers, it takes a long time to get around the country. Flying is one of the most efficient ways to city hop, but it's not the cheapest. Australia's major airlines include:
Since Tiger Airways (Australia's budget airline) went under in 2020, Jetstar is the cheapest option now. If you book early, you can find all kinds of deals (like Sydney to Melbourne for 120 AUD return). Otherwise, Sydney to Melbourne will cost around 230 AUD ($175 USD), while a longer flight like Cairns to Perth is 615 AUD ($460 USD) return!
Bus – After driving, this is my favorite transportation option in Australia. On the east coast, this will be your cheapest option too. On the west coast, buses are surprisingly expensive as there are not many people moving up and down that coast and there's limited competition. However, on the east coast, you can find really cheap bus tickets, especially if you book in advance. The two major bus companies in Australia are:
Both companies sometimes offer 1 AUD ($0.75 USD) fares but, for the most part, bus ticket prices are around 35 AUD ($25 USD) (night buses are usually around 60–70 AUD ($45-50 USD). Greyhound also offers several bus passes. Their Whimit Passes range from 15-365 days of unlimited travel and are perfect for traveling around on a whim (hence the name). They come in 15, 30, 60, 90, 120, and 365-day passes ranging from 249-1,699 AUD ($184-1,260 USD).
Backpacker Bus – If you want to party with other backpackers as you travel, book a seat on the Magic Bus. This backpacker bus departs with 25 backpackers aged 18-35 for 3-4 weeks of exploring the country's national parks, camping, bonfires, and non-stop parties and shenanigans. Trips go from Perth north to Broome or east to Melbourne each month, so you have to time your trip accordingly to line up with the set departure. The itineraries are always flexible so every trip is unique. They try to keep a balance of 50% men and 50% women, as well as a balance of different nationalities, so there is always a diverse group. Trips begin at 1,200 AUD ($822 USD) per person.
Train – Between city trams, commuter trains, and long-distance and trans-continental trains, Australia can be seen extensively by rail. Train lines exist mostly on the east coast with only two other major lines in the country: one goes north/south from Melbourne to Darwin and another east/east from Sydney to Perth.
If you are staying on the East Coast and use the state-run trains though, they can actually be pretty affordable. Sydney to Canberra is a 40 AUD train (compared to a 100 AUD flight), and Sydney to Blue Mountains train is 6 AUD.
Beyond the East Coast, however, their use isn't that widespread, and long-distance trains can be very expensive.
Rideshare – If you really want to save money and travel cheap, find some other friends, rent a car or campervan, and drive around the country. It's really easy to rideshare in Australia. Every hostel has a bulletin board where travelers post rides and websites like Gumtree have active ridesharing sections where people look for cars or riders. I HIGHLY recommend this way of traveling when in the country. Rideshare websites:
Alternatively, you can also purchase a car from backpackers leaving the country or locals selling used cars. You can usually find a used car for 1,000-2,000 AUD ($735-1,470 USD). It might seem a lot, but there are always backpackers looking to share the ride.
When to Go to Australia
Considering Australia is such an enormous country, the climate and temperatures change from place to place. Overall, the most popular time to visit Australia is from April to September. The weather is lovely and mild, and most of the country is dry and warm. All the popular attractions will be open too. In Southern Australia, March to May (autumn) is a great time to visit. On the other hand, the crowds of tourists can be intense, and prices will be much higher than in the off-season/shoulder season. You'll have to book many things in advance!
If you've come to Australia to take advantage of hiking, winter (June to August) is a nice time to visit.
The low season is from October to March, when temperatures are too hot and humid, and unbearable to most people — especially in the Red Center and around most of Western Australia. The plus side: discounted travel rates! Especially at hotels and hostels.
From October to April is also "jellyfish season," making waters unsafe for swimming or any other water sport. If you're planning on enjoying Australia's coast, this probably isn't the best time to come. The season lasts from October to April in Northern Australia, and then November to March elsewhere.
How to Stay Safe in Australia
Australia is an incredibly safe place to backpack and travel – even if you're traveling solo, and even as a solo female traveler. Violent attacks are rare. People are nice and helpful and you're unlikely to get into trouble. If you're in a big city, take normal precautions like you would anywhere else. When at the bar, always keep an eye on your drink. Avoid walking home alone at night if you're intoxicated.
To learn which scams to be on the lookout for, here are the 14 major travel scams to avoid on your trip. There aren't many here in Australia though.
Most incidents in Australia tend to occur because visitors are not used to the country's unique climate and wilderness. Be sure you have plenty of sunscreen and stay as hydrated as possible. This is especially true if you're driving through the outback. There are long, long distances without any towns in sight, so if you break down, you'll want to be prepared.
If you're hiking, make sure you know what to expect ahead of time. Be on the lookout for snakes and spiders, and if you're bitten, seek immediate care. (Don't worry though – all those horror stories about giant spiders and vicious animals are pretty rare!) Furthermore, if you're swimming, heed the red and yellow flags. Yellow flags indicate swimming conditions may be dangerous; red flags mean the beach is closed.
Mother nature in Australia is NOT a force to reckoned with.
If you do experience an emergency, dial 000 for assistance.
Always trust your gut instinct. Make copies of your important documents, like your passport. Forward your itinerary along to friends or family so they'll know where you are.
The most important piece of advice I can offer is to purchase good travel insurance. Travel insurance will protect you against illness, injury, theft, and cancellations. It's comprehensive protection in case anything goes wrong. I never go on a trip without it as I've had to use it many times in the past. You can use the widget below to find the policy right for you:
Australia Travel Guide: The Best Booking Resources
These are my favorite companies to use when I travel. They consistently have the best deals, offer world-class customer service and great value, and overall, are better than their competitors. They are the companies I use the most and are always the starting point in my search for travel deals.
Skyscanner – Skyscanner is my favorite flight search engine. They search small websites and budget airlines that larger search sites tend to miss. They are hands down the number one place to start.
Hostelworld – This is the best hostel accommodation site out there with the largest inventory, best search interface, and widest availability.
Booking.com – The best all around booking site that constantly provides the cheapest and lowest rates. They have the widest selection of budget accommodation. In all my tests, they've always had the cheapest rates out of all the booking websites.
Intrepid Travel – If you want to do group tours, go with Intrepid. They offer good small group tours that use local operators and leave a small environmental footprint. And, as a reader of this site, you'll get exclusive discounts with them too!
Get Your Guide – Get Your Guide is a huge online marketplace for tours and excursions. They have tons of tour options available in cities all around the world, including everything from cooking classes, walking tours, street art lessons, and more!
Rome2Rio – This website allows you to see how to get from point A to point B the best and cheapest way possible. Just enter your departure and arrival destinations and it will give you all the bus, train, plane, or boat routes that can get you there as well as how much they cost. It's one of the best transportation websites out there!
SafetyWing – Safety Wing offers convenient and affordable plans tailored to digital nomads and long-term travelers. They have cheap monthly plans, great customer service, and an easy-to-use claims process that makes it perfect for those on the road.
Australia Gear and Packing Guide
If you're heading on the road and need some gear suggestions, here are my tips for the best travel backpack and for what to pack!
The Best Backpack for Travelers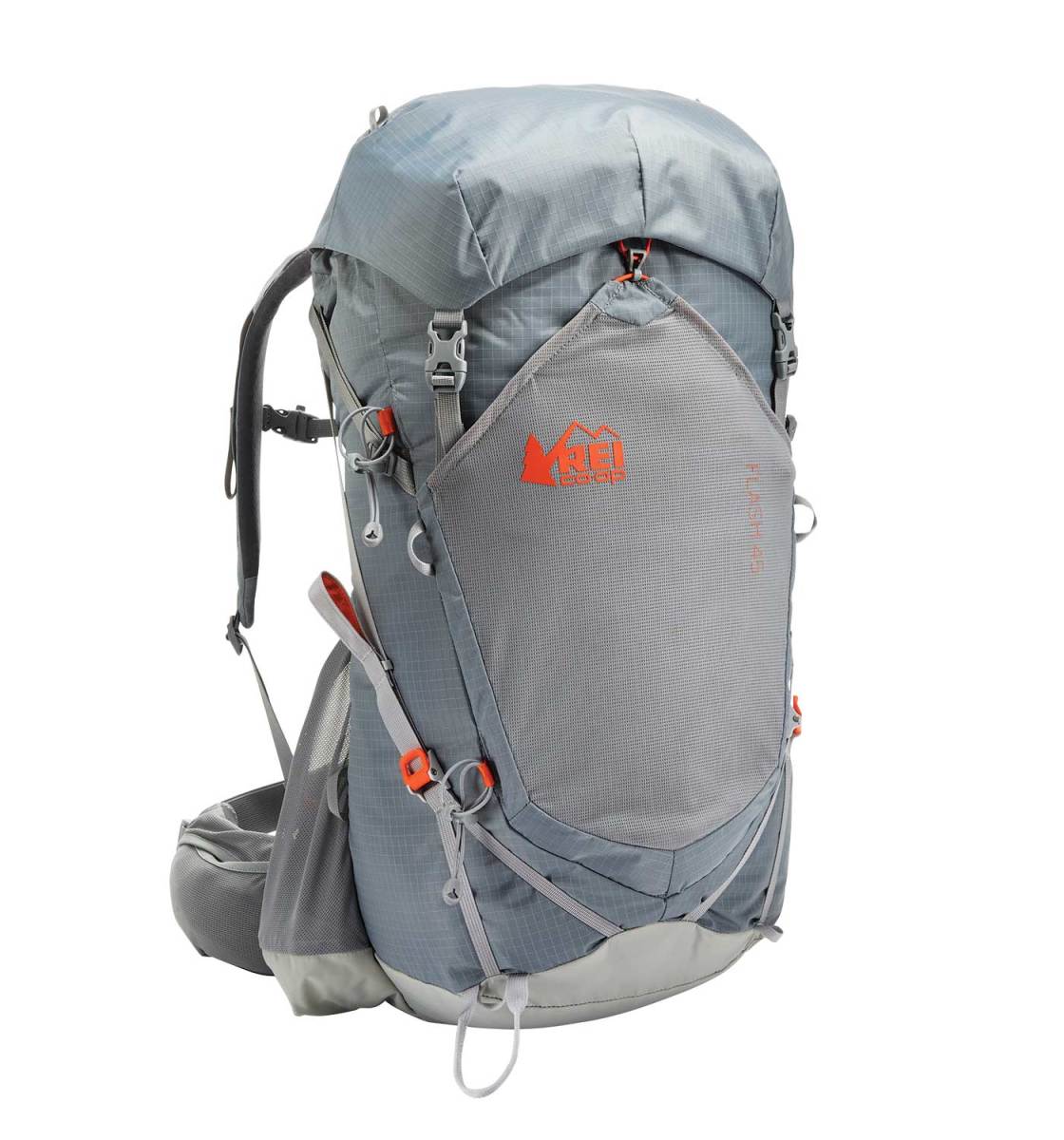 What's the best backpack for traveling long-term? I recommend the
REI Flash 45 Pack
. It's light and comfy, top loading, and fits perfectly in an airplane's overhead bin.
Size:
45-47L
Straps:
Thick and cushy with compression technology that pulls the pack's load up and inwards so it doesn't feel as heavy.
Features:
Removable top lid, pocket at the front, hydration compatible, contoured hip belt
If you want something different, refer to my article on how to choose the best travel backpack for tips on picking a pack and other backpack suggestions.
What to Pack for Your Trip
Clothes
1 pair of jeans (heavy and not easily dried, but I like them; a good alternative is khaki pants)
1 pair of shorts
1 bathing suit
5 T-shirts (Unbound Merino is my preferred company. If you're a member of NM+, you can get 15% off your purchase)
1 long-sleeved T-shirt
1 pair of flip-flops
1 pair of sneakers
6 pairs of socks (I always end up losing half)
5 pairs of boxer shorts (I'm not a briefs guy!)
1 toothbrush
1 tube of toothpaste
1 razor
1 package of dental floss
1 small bottle of shampoo
1 small bottle of shower gel
1 towel
Deodorant
Small Medical Kit (safety is important!!!)
Miscellaneous
Female Travel Packing List
I'm not a woman, so I don't know what a woman wears, but Kristin Addis, our solo female travel guru, wrote this list as an addition to the basics above:
Clothing
1 swimsuit
1 sarong
1 pair of stretchy jeans (they wash and dry easily)
1 pair of leggings (if it's cold, they can go under your jeans, otherwise with a dress or shirt)
2-3 long-sleeve tops
2-3 T-shirts
3-4 spaghetti tops
1 light cardigan
Toiletries
1 dry shampoo spray & talc powder (keeps long hair grease-free in between washes)
1 hairbrush
Makeup you use
Hair bands & hair clips
Feminine hygiene products (you can opt to buy there too, but I prefer not to count on it, and most people have their preferred products)
For more on packing, check out these posts:
Australia Travel Guide: Related Articles
Want more info? Check out all the articles I've written on Australia travel and continue planning your trip: